Back To Our Services
Let our skilled technicians provide emergency services of the highest quality for resolving any lock and key problem on the spot. Our locksmith company specializes in the commercial, residential and automotive fields. Whether the problem is with an electronic office lock or with a car ignition key, we will eliminate it swiftly and with maximum precision. Our solutions range from the repair and replacement of locks and keys to rekeying. Turn to us with confidence that we will help you out in the fastest and most effective possible way.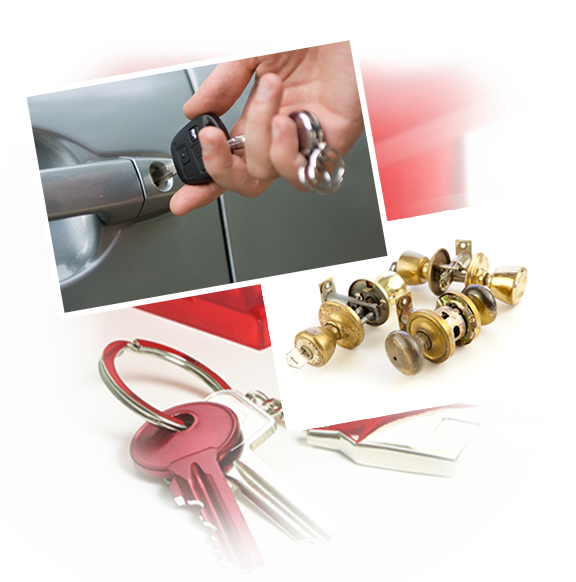 Expert Solutions in No Time
Count on us to come to the rescue in the shortest time once you call us. We pick up the phone quickly and use the fastest possible route to reach a person in distress. Our professional technicians are equipped with advanced tools and high-quality spare parts to implement any kind of solution straight away. In case you are locked out of your home, office or car, we will use the safest and most effective and dependable technique to unlock the door and let you back inside. It takes us minutes to complete the job.
When the issue has to do with a damaged or malfunctioning lock, we will fix it quickly to restore its normal condition and operation. No matter whether the device is completely stuck or has piece of a broken key blade inside, we will work with the utmost accuracy to make it fully functional again. You can expect brilliant results from our lock repair service. We are equally good at fixing keys as well. When repair is not an option, we will fit a new door lockset and provide replacement keys. You can choose to get a rim or mortise set that will provide the same level of security as the previous one or a new set which is more advanced and offers higher protection. At "Locksmith Missouri City", we always meet the needs and requirements of our customers.
The rekeying of locks is another one of our most frequently used emergency services. This solution is applied in case of lost house keys or office keys. The internal locking mechanism is reconfigured so that it can be used with a new set of keys only. With rekeying, we restore the security of the property quickly, effectively and efficiently. When the lockset is outdated or in poor condition, we will replace it completely. Our core goal is to ensure optimal property security and we will do what it takes to achieve it. We are experts in changing car locks as well. The new device matches the vehicle model precisely and the transponder key works flawlessly.
We are here for you! Call or send us a message to learn more about us.
Back To Our Services